Andrea Williams, Chief Executive of Christian Concern comments on the recent criticism of CBR UK's Stop Stella campaign.
The Centre for Bioethical Reform UK's (CBR UK) Stop Stella campaign has faced criticism this week, from many pro-abortion activists but also from truly Christian, truly pro-life, friends of mine.
I want to take a moment to explain why we support the campaign.
For any who are unaware, the CBR UK has been educating people in Walthamstow about the nature of abortion. One billboard advert, which has been the focus of much public debate, shows a 9-week-old living fetus alongside a simple message relating to Walthamstow's MP, Stella Creasy – a devoted campaigner for so-called 'abortion rights'. The messages read "Stop Stella" and, in the baby's voice, "Your MP is working hard to take away my human rights".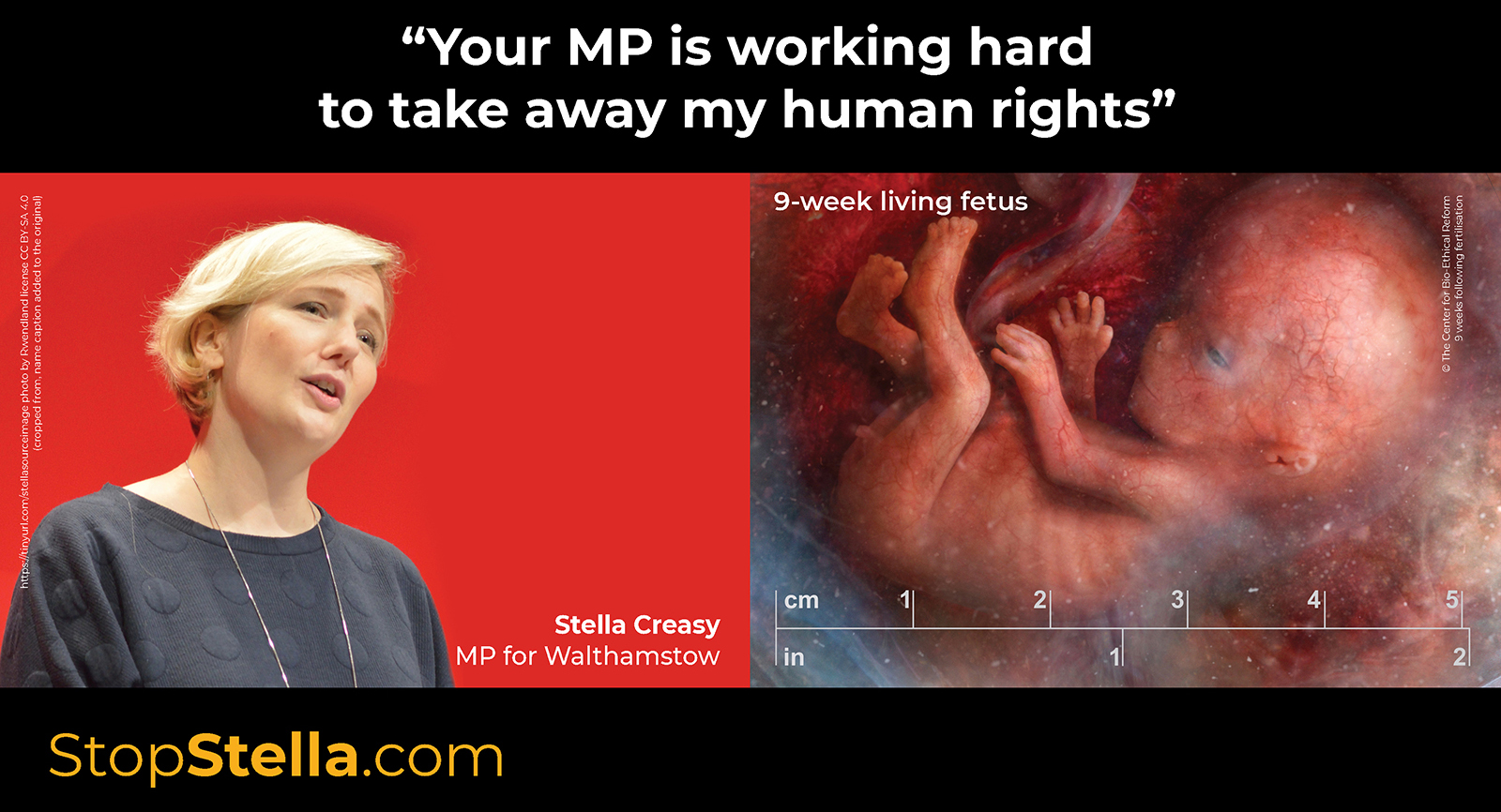 The group has also held their portable displays in the town centre, which feature photos of aborted babies – some of which have now been vandalised while police watch on.
The choice of Walthamstow and Stella Creasy MP is no accident – Stella Creasy is currently the most vocal activist in the House of Commons for liberalising abortion across the UK. She has been particularly active pushing liberalised abortion on Northern Ireland from Westminster, declaring that abortion is a human right. To achieve this, she wants to overturn sections 58 and 59 of the Offences Against the Person Act, which would remove many of the few protections of unborn children that currently exist.
The controversy for many is that Stella Creasy is herself 8 months pregnant. The life inside her is, of course, wonderful and has come after she has experienced difficulty in previous pregnancy, including miscarriage. She is seeking to claim that CBR UK's campaign is harassment and intimidation. The question is whether pictures of the unborn child constitute harassment, and whether pointing out that she is equally in favour of terminating such a child or giving birth to one is intimidation.
In essence, I support the campaign because I believe that until we face the consequences of our actions and live with the reality of what is happening in our nation on the issue of abortion, then nothing will change.
Whatever any of us may think about the pictures and the appropriateness of them being displayed in Stella Creasy's constituency for the two hours they lasted (before the police took the poster down), it did get the issue into the public consciousness. It made us all think – if there is nothing wrong with abortion, why is this so disturbing? If people are finding this so offensive, maybe the act of abortion itself is indeed barbaric?
As many of you know, I am 'harassed' and harangued daily. Politicians are also. It is no defence at all from Stella Creasy, as an aggressive and intensely motivated activist, at the forefront of increasing access to abortion in our nation, to plead intimidation by CBR UK in this instance. CBR UK has done nothing unlawful; they have not doorstepped her, trolled her, called her incessantly. The furore has been caused by Stella crying 'foul' – by Stella complaining and campaigning. Faced with the reality of what she fights for in parliament, she cries harassment.
If facing the reality of abortion causes her such discomfort, then abortion protests itself.
The goal of CBR UK is simply this: calling for people to stop Stella from achieving no abortion protection up to 28 weeks. That's right – 28 weeks. Babies live at 28 weeks.
Stella consistently takes media appearances lecturing CBR UK on morality. The lost babies have no voice. Where do we give them a voice? How do we get this message out there?
First, groups like CBR UK were told that protests shouldn't be outside clinics and that they should be in other public spaces. Next, University Student Unions try to shut up all pro-life groups. Now we're being told they're not allowed to display in the public domain. Twitter censored CBR UK's account for showing the image. Where exactly is anyone who wants to stand against the killing of a child in the womb allowed the right to protest?
This is not tit for tat. At Christian Concern, I can tell you we love Stella Creasy and the child she bares. We pray for her, not harbouring hatred in our hearts.
Yet in her public role, she is radically pro-abortion. In a representative democracy, MPs represent the people. It has to be possible to hold them to account, which in turn requires well-informed constituents. MPs, particularly during Brexit turbulence, face huge pressure, day in, day out.
Would anyone suggest that a pregnant MP could not be criticised for any other policy she supports? Would an MP suffering from high levels of stress, depression or heart problems be able to censor criticism by appealing to their condition?
The hypocrisy of many in Parliament on this point has been staggering to see. More than 200,000 babies are aborted every year in the UK. But when the smallest bit of political pressure is applied to abortion's most ardent supporter, suddenly the defenders of abortion rally to recognise the very real value of the unborn child.
I believe that unless pro-life beliefs make a significant impact at the ballot box, all our campaigning will go nowhere. Radical pro-abortion campaigners will raise a furious fuss over every pro-life candidate and the Church will still be voting for other candidates, because their leader has a marginally better policy on the economy, the environment or Brexit. Is this right?
When will it be unthinkable for someone pushing abortion like Stella Creasy to be elected?
What one must also offset against this is the disturbance and media coverage that CBR UK has gained for reminding the global consciousness of abortion – what it is, who you are killing and why you are doing it. Listen to Ruth Rawlins on Woman's Hour. She does a truly excellent job defending our unborn children and protecting the mothers. She offers a strong apologetic for CBR UK's actions.
As to the poster – guess what? That's not comfortable. It isn't comfortable because it isn't right; it isn't comfortable because, like pain, it is God's megaphone to a deaf world. Maybe, just maybe, some people will start listening.
Since abortion became possible in 1967 there have been over 9 million abortions. That is a legalised, silent holocaust. It is not the mark of a civilised society but the mark of a brutal one unable to care for the most vulnerable mothers and children in its midst.
It is time to speak life in a culture of death; time to face up to what is happening and put an end to abortion.
Life not death; hope not despair – a different way.
Article courtesy of Christian Concern. Republished by permission. 
Link to the original article: https://christianconcern.com/comment/where-can-we-show-the-painful-truth-of-abortion/
Image by Julian Osley, CC BY-SA 2.0, Link